从上海到甘肃渭源县莲峰镇约2400公里的路程,带着那份作为爱心人士而该有的友善与期许,一路颠簸,来到这里,路途艰辛,但我们都很真诚。
到达坡儿小学见到还未放暑假的学生们,一个整齐的穿着校服,以他们最为热情的方式欢迎了我们。孩子们因为营养不足而显得比自己年纪该有的体型偏小很多。四幢瓦顶的教学平房,残破的课桌与黑板,几间教师们兼做宿舍与办公室的小房,没有经过修砌而平整的操场,没有多媒体教学设施,也没有哪怕最小型的食堂。一切都与这一路的土坯房,泥土马路,远方高低错落的梯田显得格外契合。在这海拔2500米的高原地区,老师和孩子们脸上都带着当地特有的高原红,笑容淳朴,显得分外亲切。这里的白昼很长,日照约16个小时,因此这里盛产农作物马铃薯、当归、党参和红、黄芪等,但当地的居民却并没有因为这些而生活富足。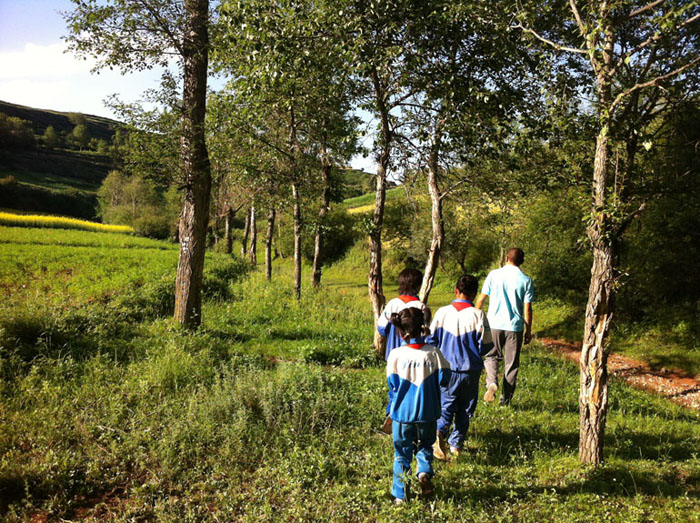 傍晚,我们去了两位学生家进行爱心家访。令我印象最深是一位叫汪亚红的五年级女孩,出落得大方,却腼腆少言,话音很小,总是带着笑。虽已是下午五点,太阳却仍然高悬天空,伙伴们在高原上爬山路个个气喘吁吁。走了约四十几分钟的山路,一个非常不起眼的小坡上,一座最原始的土坯房,一间住人一间是驴厩。她的母亲由于病患不能走路坐在烈日底下拣着驴吃的草杆,父亲看到我们匆匆从屋里走出来,带着微笑,那种毫无修饰、毫无期求的微笑记忆犹新,却也令人心痛,他示意我们每一位是否要抽烟,表示着最为质朴的欢迎。妹妹一直不说话,半个身子躲在门背后,我走进去跟她打招呼,问了她几个简单的问题,她都没有回答,只是摇晃着那瘦弱的身子低着头笑着,天很热,她的身上穿的是一件破旧得已经看不出本身颜色的毛衣。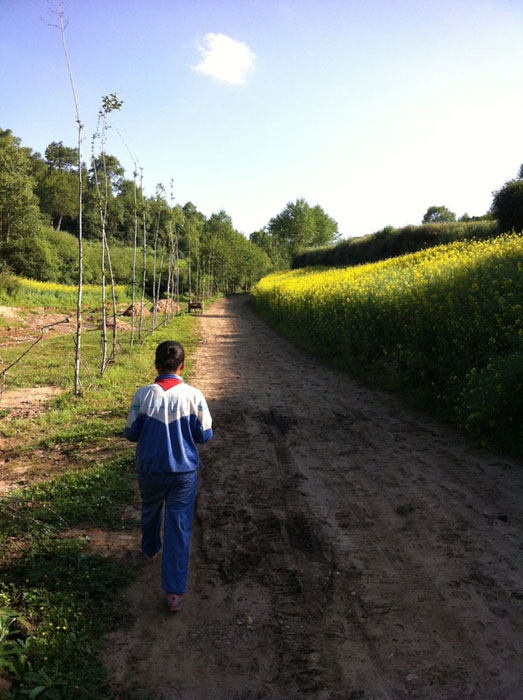 亚红告诉我们,她跟妹妹每天中午都是自己回来做饭吃,碰到下大雨或下雪只能带点干粮在学校吃,唯有过年才能吃上肉。班主任老师告诉我们她的学习成绩很好,虽然没有零用钱,没几件换衣的衣物和鞋,没有其他同学的漂亮发夹和书包。我问她觉得苦吗?她淡淡的笑着说不觉得苦。
她的家境状况是我对贫困最真实、深切并直接的理解。临走时,我们说给她拍张照片,她站在家门外的土坡路上,双手交在身后,侧着头带着内敛的微笑,那么的可爱,亭亭玉立。
慈善不一定是要人人捐款,每一次的关注,每一个善念、善举都是在做慈善。慈善让我们更加靠近心灵的本真,并感悟到被需求原来也是一种美好。恰恰是那些需要被关注、被关怀的人们,使我们认清存在的意义。生命不能承受之轻,这些责任和负担使我们感知生命的重量。对于慈善之路我想借用那句:路漫漫其修远兮,吾将上下而求索。让我们一起努力!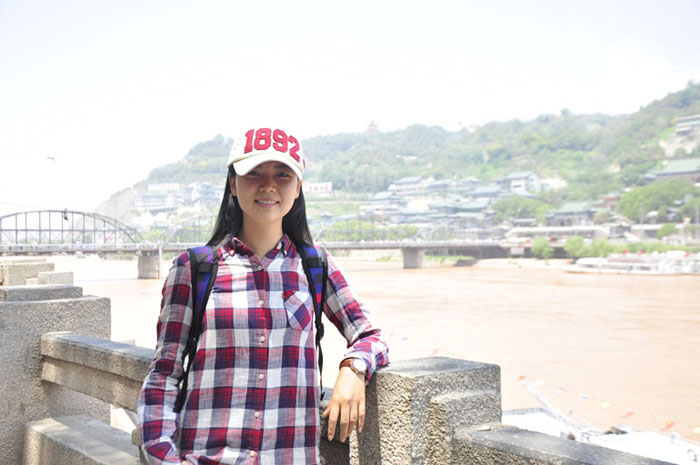 It was about 2400 kilometers from Shanghai to Lianfeng Town, Weiyuan County, Gansu Province. Taking the kindness and expectation with them, the charity workers travelled all the way here, having undergone a hard journey, with the most sincere hearts.
At Po'er Primary School, we saw the children before they started to take their summer vacation. Dressed in uniform, they warmly welcomed us. Due to lack of nutrition, they looked much smaller than their age. Four tile-roofed teaching houses, rickety desks and blackboards, a few small barns for teachers' accommodation and office area, a field that had never been flattened or properly built, teaching facilities without multi-media, and there was even no dining hall…… All these seemed to be in harmony with the mud houses, muddy roads, and tiered terraces far away. In the plateau area of 2500 meters above sea level, both teachers' and children's faces bore the vermillion of pleateau and naïve smile, looking rather accessible. Here has extremely long days with a sunshine length of 16 hours. Therefore here produces abundant of potatoes, chinese angelica, pilose asiabell root, manyinflorescenced sweetvetch root, and astragalus. In spite that, people living here hasn't become well-off because of them.
At dusk, we went to two students' homes for home visit. What impressed me most was Wang Yahong's home. Wang Yahong, a 5th-grade girl, was pretty but had little words. She spoke with a very low voice but was always smiling. Although it was already 5pm in the afternoon, the sun was still shining high above. I and my companions climbed up the mountain, panting. After about 40 minutes' mountain trip, on a very small hill, there were two most primitive mud houses, one for people and the other for the donkey. Due to leg problem, her mother couldn't walk and had to sit under the sun to collect grass for the donkey. Her dad hurried out of the house after seeing us, smiling. His smile was the most genuine smile without any earnest hope for help, which brought pain to us from the bottom of our hearts. He beckoned if we wanted to smoke to express his most unvarnished welcome. Her sister didn't utter any word apart from burying her head low and smiling. It was hot but she was wearing a very old jumper whose color couldn't even be seen.
Yahong told us that both she and her sister came home and cook lunch during lunch break. In case of heavy rain or snow, they just brought some dry food with them and ate in the school. They could only taste meat during spring festival. Her head teacher told us that she studied really well. She didn't have any pocket money, or sufficient clothes or shoes, or beautiful hair clips or school bags. I asked her if she felt any hardships, she just smiled and answered that it wasn't hard at all.
To me, her home was the most genuine, profound, and straightforward explanation of poverty. Before we left, we said we wanted to take a photo of her. She stood on the mud road in front of her home with hands crossed behind her and her head leaning towards one side, smiling the most shy and lovely smile and presenting a very nice picture of her.
Charity isn't all about donation. Every attention, every kind thought, and every kind action is all charitable. Charity brings us closer to our true souls and reminds us how nice it is when we are needed. It is those who need our attention and care that helps us realize the significance of our existence. The unbearable lightness of being and those responsibilities and burdens help us realize the weight of lives. Regarding the charitable path, I think it is a rather long process that needs our continuous effort and exploration. Let us work together for the cause of charity!