为了不断的提高企业文化建设及精细化管理水平。11月15日,由总裁办发起、品牌管理中心企业文化部组织安正时尚集团一行前往苏州参观德胜洋楼。
苏州德胜洋楼有限公司是一家从事美式现代木结构住宅的研究、开发设计及建造的企业。虽然规模不大,但是它独树一帜的管理文化引起了企业界的广泛关注。德胜公司出版的《企业文化地图》、《德胜管理》、《德胜员工守则》,被誉为中国企业的"圣经"。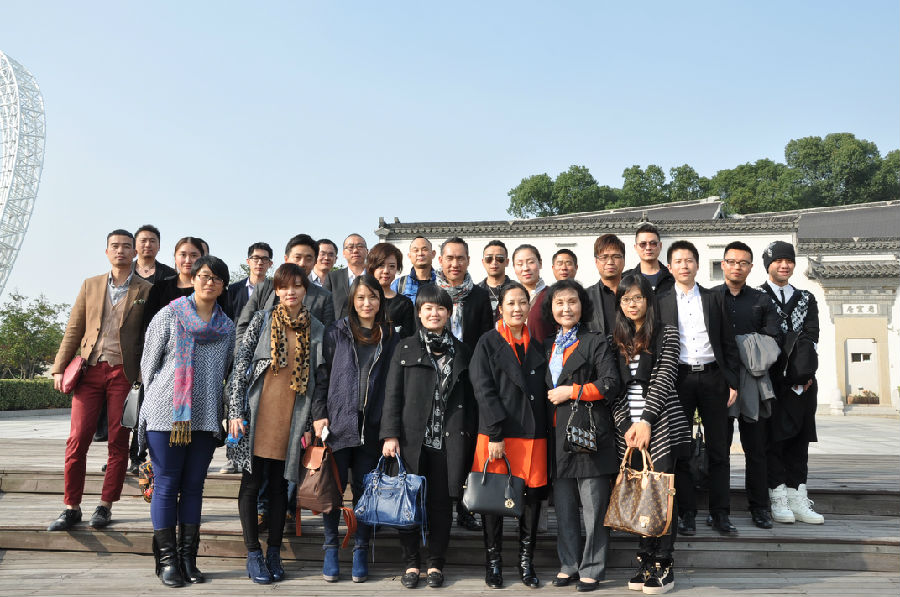 图为:安正时尚集团同事在赛奇创意策划中心前合影
安正时尚集团一行23人于9:00到达苏州德胜公司,在德胜公司吴清霞女士的带领下,先后参观了德胜公司在苏州的样本小区——波特兰小街、德胜办公大楼,最后在赛奇创意策划中心座谈交流。
在参观过程中,吴清霞女士介绍了许多德胜的管理制度,如员工可以自行安排调休、公司配备专职医疗顾问和专门的医务室、报销费用不需要领导审批等等,其精细化、人本化的管理方式让人赞叹。在德胜的食堂,明确标注了洗菜、配菜、炒菜每个步骤的负责人,以便于有问题能够及时找到对应的人沟通。参观德胜样板房,当大家从房里出来的时候,都发现自己脱下随便摆放的鞋子,已经被鞋尖朝外整齐的摆好。原来只要有人参观,就会有员工把客人鞋子摆好,这样客人出门时就方便穿鞋了。
现场的每一个细节都能够让大家感到德胜的与众不同,而这样的细心和体贴在德胜无处不在。在如今要求精细化管理的时代,细节显得越发重要,德胜公司无疑是精细化管理最具代表性的企业。
参观完德胜,大家一起在赛奇创意策划中心座谈交流,畅谈心得体会,进行了更深一步的交流,集团领导表示要借鉴先进的管理体制,结合企业现状,共同努力打造安正时尚特色的企业文化、管理风格,推进公司的进一步发展。
参观学习结束后,集团董事长郑安政先生为长江平民教育基金会捐献爱心。基金旨在改善平民地区教育设施,支持平民教育事业的发展,使这些孩子能够"读平民的书、说平民的话、过平民的生活,将来走向社会做一个'诚实、勤劳、有爱心、不走捷径'的合格平民。"该基金会由德胜(苏州)洋楼有限公司总监聂圣哲先生担任主席。
图为:安正时尚集团董事长郑安政先生为长江平民教育基金会捐献爱心
In order to continuously improve culture development and increase lean management skill in the company, Anzheng Fashion Group representatives, sponsored by the Executive Office, and organized by Brand Management Center and Cultural Department of the Company, visited Tecsun Homes in Suzhou on November 15th.
Tecsun Homes Company Limited is an enterprise specialized in the study, development, design, and construction of American modern timber structure houses. Although small in scale, it has attracted broad attention from the industry because of its unique management culture. The Map of Corporate Cultures, Tecsun Management, and Tecsun Code of Conduct, published by Tecsun Company, are regarded as the "Bible" for Chinese enterprises.
Picture: Colleagues from Anzheng Fashion Group were taking a photo in front of Sage Creativity and Planning Center
Anzheng Fashion Group, comprised of 23 members, arrived at Suzhou Tecsun Company at 9:00. Guided by Mrs. Wu Qingxia from Tecsun Company, Anzheng representatives visited Portland Street, known as the sample community in Suzhou, Tecsun office building, and finally held a conference at Sage creativity and planning center.
During the visit, Mrs. Wu Qingxia introduced a variety of Tecsun management polices to us, such as Tecsun employees may arrange their working days off by themselves, the Company provides dedicated medical consultant and special clinic, and reimbursement of costs doesn't require approval from leaders and so on. The super refined and employee-friendly management totally amazed us. In Tecsun dining hall, it clearly identified the people in charge of washing food, preparing food, and cooking foods to facilitate accurate communication in case of any problems. After completing visiting Tecsun sample houses and when we were stepping out of the house, we found that our shoes, willfully put on the floor at first, had been placed neatly with the tips of the footwear facing outward. Later we found that when visitors came, there will be employees responsible for putting visitors' shoes neatly to make it easier for visitors to put them back on when they were about to leave.
Every single detail we experience at the scene made us feel Tecsun's difference, and Tecsun's consideration and attention can be seen everywhere. We have to admit that Tecsun is undoubtedly the best enterprise for lean management.
After completing visiting Tecsun, we held a conference at Sage Creativity and Planning Center and had more profound communication. Our Group Leader expressed the idea to borrow advanced management system, combine the system with specific conditions of the Group, and work hard together to create Anzheng Fashion's own unique corporate culture and management style, and hence further promote the development of the Company.
After finishing the visit, President of the Group Mr. Zheng Anzheng donated to Changjiang Civilian Education Foundation. This foundation aims at improving the educational facilities at civilian areas and providing support for the development of civilian education so that the children may have the chance to "go to school and live a standard life of common people and become a qualified citizen that is 'honest, diligent, loving, and down-to-earth'." Mr. Nie Shengzhe, director of Tecsun (Suzhou) Homes Company Limited, acts as president of the foundation.
Picture: Mr. Zheng Anzheng, president of Anzheng Fashion Group, was donating to Changjiang Civilian Education Foundation