三月草长莺飞,三月温情无限!新世纪的女性独立自强,撑起了半边天。为了进一步提升女同胞们对自身健康的认知,从而做到"早发现、早诊断、早治疗",安正时尚集团在三八节来临之际,联合海宁开发区工会,针对生产中心员工开展了一次妇女健康体检活动。
活动前,公司通过腾讯通、广播等方式进行大力宣传,提高活动知晓率。大家报名踊跃,远远超出了预订人数。在体检活动现场,医生仔细为每一位女同胞做检查,并详细询问身体状况、既往病史等,对检查结果也进行了一个针对性的回答。现场有不少员工表示,平时工作较忙,也没有时间做体检,公司举办的活动很好,让自己能够明确了解到健康状况,很贴心。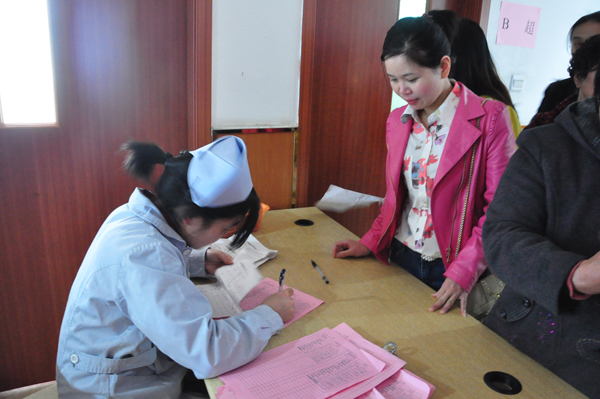 集团工会主席表示,女同胞们对公司的发展做出了很大的贡献,在平日繁忙工作的同时,也要注意自身的身体健康。免费体检是工会关爱员工的一种表达方式,类似的活动今后也会举办。
TradeUnion Showing Love and Care to Female Employees
In March, the grassesare tall and the nightingales are flying in the air under the warmth of thisfabulous season. In this new century, independent and self-reliant women propup half of the sky. In order to increase women's awareness of the importance ofhealth and ensure "early detection, early diagnosis, early treatment", AnzhengFashion Group organized the employees of the production center to have amedical examination jointly with Trade Union of Haining Development Zone beforeWomen's Day (March 8).
The Company publicizedthe blood donation activity through Real Time Exchange and broadcasting to makemore employees know about the activity. Employees signed up for donating bloodone after another, so the number of participants far exceeded the estimatednumber. The doctors examined each female participant carefully and asked abouttheir physical conditions and past medical history in details. Moreover, thedoctors also explained the examination result as might be necessary. Manyemployees said they were usually too busy to have a medical examination, and itwas really considerate for the Company to conduct the blood donation activity,because in this way they might know about their health conditions.
The chairman of TradeUnion of Anzheng Fashion Group said female employees had made a greatcontribution to the development of the Company, but they needed to payattention to their physical health though they were always busy with work. Freemedical examination is one of the ways of the Trade Union to show love and careto employees. There will be similar activities in the future.