4月10日上午,海宁经济开发区召开了2015年党建群团工作会议。集团党总支书记金俊、海宁党支部书记张海峰、工会妇职委吴春梅三位代表参加了会议。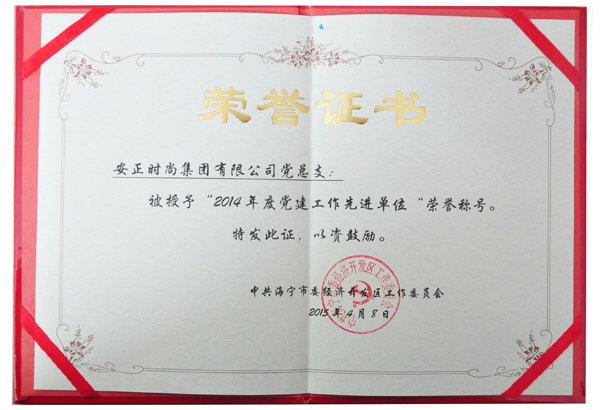 2014年集团党总支认真贯彻落实党的十八大及十八大三中、四中全会精神,扎实开展党的群众路线教育实践活动,开展各项志愿者服务和助力"五水共治"项目等活动得到开发区党工委的高度认可,集团党总支部被授予"2014年度党建工作先进单位"、"五星级基层党组织"荣誉称号。同时2014年集团工会、浙江安正慈善基金会在企业文化部的具体实施下,对内对外开展了多项有意义的活动,也得到了开发区总工会和妇工委的认可,被授予"2013-2014年度先进基层工会"、"2013-2014年度妇女工作先进集体"荣誉称号。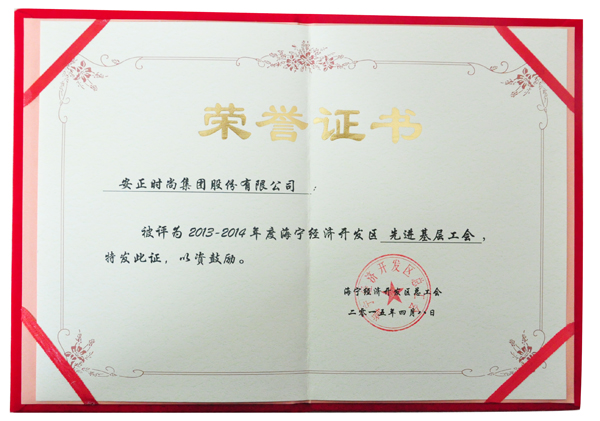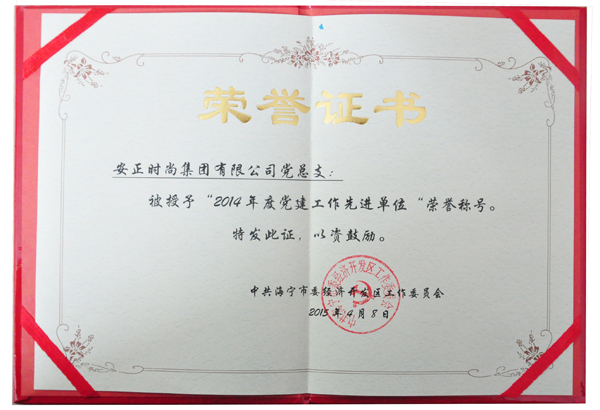 集团党总支部和工会将再接再厉,发扬团队精神,不断进取。党群联动紧密结合,争取2015年再上一个新台阶,对集团的发展作出新的贡献。
HainingEconomic Development Zone held the Meeting for Party-building and Mass Work in2015 in the morning on April 10. Jin Jun, the secretary of General Party Branchof AnzhengFashion Group, Zhang Haifeng, the secretary of Haining Party Branch and WuChunmei, a member of Women Staff Committee of Trade Union attended the meeting.
In2014, General Party Branch of AnzhengFashion Group implemented the spirit of the 18th CPC National Congress, theThird Plenary Session of the 18th CPC National Congress and the Fourth PlenarySession of the 18th CPC National Congress, carried out educational and practicalactivities of the mass line, various volunteer activities and promoted theproject "Improving the Five Waters (waste water, flood, waterlogging, watersupply and water conservation)", which were highly spoken of by the PartyWorking Committee of Haining EconomicDevelopment Zone. General Party Branch of Anzheng Fashion Group washonored with the honorary titles "Advanced Unit in Building the Party" and "Five-starPrimary Party Organization". Moreover, in 2014, Trade Union of Anzheng FashionGroup, Zhejiang Anzheng Charity Foundation and Corporate Culture Department of AnzhengFashion Group carried out many meaningful activities. As a result, they werespoken highly of by Federation of Trade Unions andWorking Committee on Women of HainingEconomic Development Zone and awarded with the honorary titles "AdvancedPrimary Trade Union in 2013-2014" and "Advanced Collective in Woman-relatedWork".
General Party Branch and Trade Union of Anzheng Fashion Groupwill make persistent efforts, promote the team spirit and closely integrate theparty and the masses to achieve fresh progress in 2015 and make a newcontribution to the development of Anzheng Fashion Group.