五月里,有个很重要的节日就是劳动节,它是属于所有劳动者的节日,为促进员工练习岗位专业技能,营造爱岗敬业的良好工作氛围,我们为安正劳动者组织的趣味技能大赛,已经成功举办了4届,今年我们的第五届劳动趣味大赛也在5月16日这天如期举行,此次活动以"展现技能,释放快乐"为主题,旨在通过个人及团队的趣味游戏来提升部门协作力,丰富员工的文化生活。
今年我们的活动项目分为个人赛和团队赛各三个项目进行,参与选择性多,共有近500名员工参与团队及个人赛的报名,参与人数超过以往各届,面对今年参与人数多的形势,来自党群,人事行政部等部门的伙伴们也纷纷伸出援手,为我们的活动出人出力,从裁判人员到安保人员,从活动物资的准备到奖金的核发,所有环节及细节之处,都由大家群力群策,可谓是人多力量大!
经过大半天时间紧锣密鼓的准备和协调工作,下午三点,来自各生产车间的各队伍的参赛人员开始在行政楼下集合,海宁舞蹈俱乐部阿姨们以一支热情洋溢的《火了火了》为活动拉开帷幕,敬爱的赵老师依旧用她无比高昂的热情为我们做了精彩的开幕致辞,整场比赛在现场伙伴们热烈的掌声呼声中正式开始!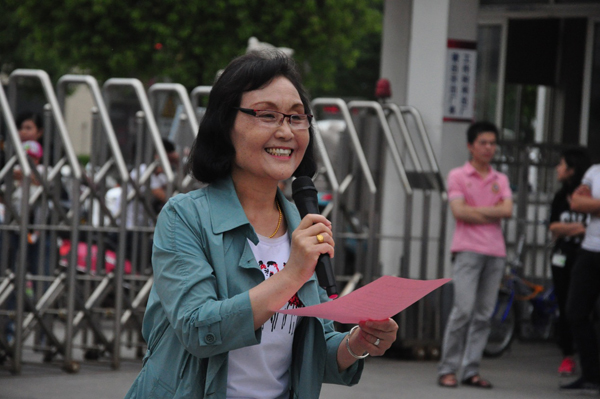 首先进行的是团队赛各项目,快乐抱抱爆,吸星大法和呼啦圈过山车,这些项目听名字趣味十足,但是要靠大家的力量很好的完成,却是不那么简单的,比如快乐抱抱爆这个项目就是通过队员之间背部夹球传递运送的动作,来提高队友之间相互的默契度,让大家明白"劲往一处使"的团队协作道理,关键秘诀就在于要掌握如何往一处使力,当然比赛过程中大家的表现也是笑点百出,逗得场边观众发笑不止。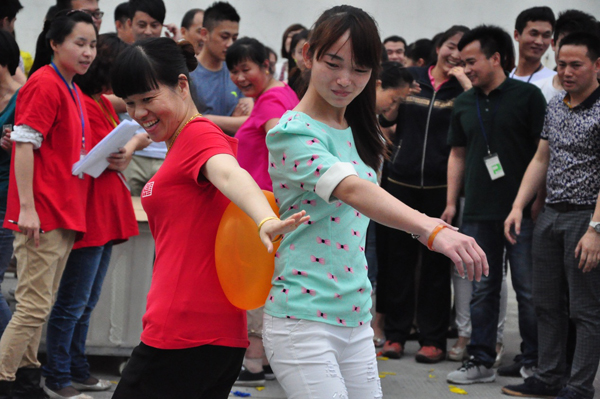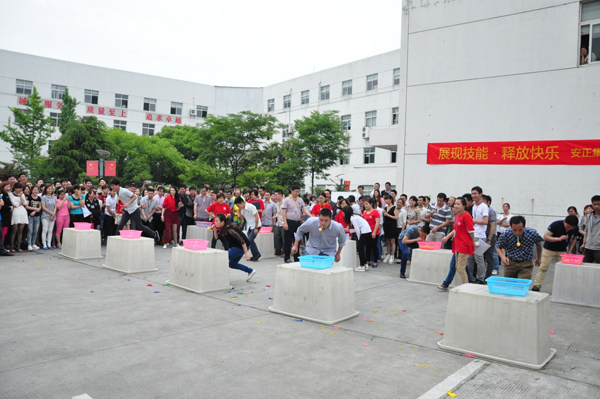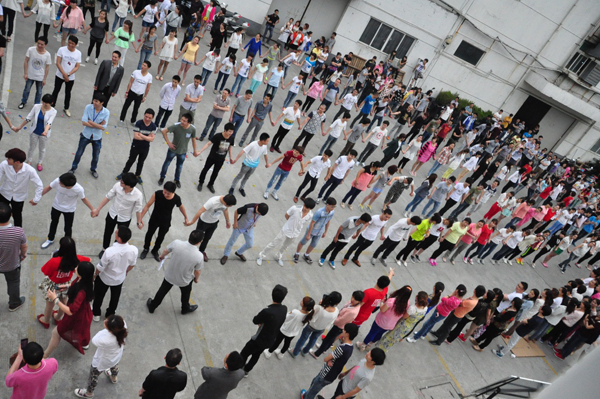 在场地其他区域进行的个人赛也是精彩纷呈,老牌项目穿针引线,今年也创造了2分钟用筷子夹线穿过18根针的记录,相信我们的普通流水线岗位上,也是人才辈出卧虎藏龙啊!
今年的比赛还有个亮点就是我们将俱乐部文化也结合进此次的活动之中,将我们员工俱乐部的风采也展现在更多的厂区伙伴面前,以鼓励更多的伙伴积极参与和支持我们的各类文化活动,将运动,健康的生活方式坚持到底!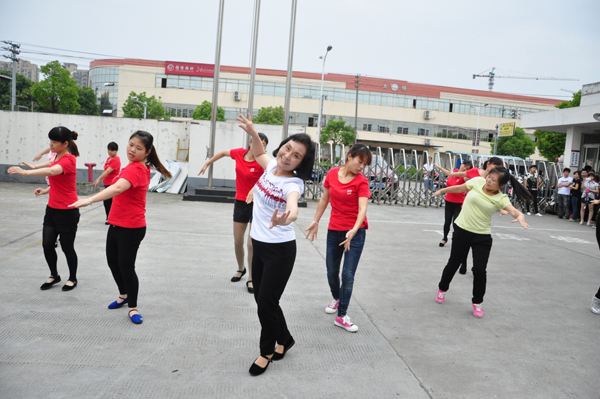 下午五点半,历时两个半小时的活动接近尾声,各项比赛的成绩相继出炉,以王惠娟领导的生产五队蝉联团队一等奖,集团副总裁赵典媚为其颁发锦旗和奖金。活动最后,曾总为此次大赛做了总结发言,安正时尚集团第五届劳动技能大赛终于落下帷幕。比赛是曲折的,结果是喜悦的,只要努力都会取得成绩的,各位亲爱的伙伴们,期待明年再见吧!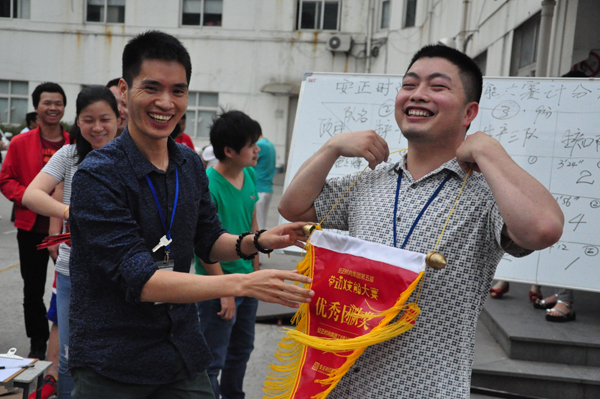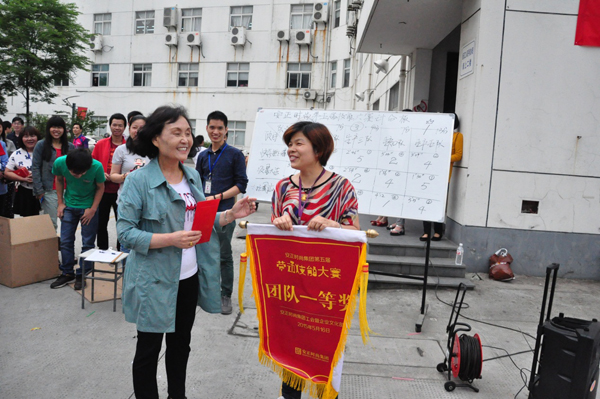 In May, there is a very important holiday - Labor Day, which belongs toall laborers; in order to promote employees to practice professional skills andcreate a good working atmosphere of dedication, we have successfully held foursessions of funny skills contests for Anzheng laborers, and our fifth funnyskills contest was also held on May 16 day this year; this activity took "ShowSkills, Release Happiness" as the theme, aiming at improving collaborationamong departments through individual and team funny games, enriching thecultural life of employees.
Our activities were divided into three items for individual and team contestsrespectively this year, with more selectivity; there was a total of nearly 500employees registering for the team and individual contests, and number ofparticipants exceeded that of each session ever; in the face of the situationof large number of participants in this year, partners from the party and themasses, Human Resource and Administration Department and other departments havealso lend a hand for our activity, from officials to security personnel, fromthe activity material preparation to the bonus approving and issuing, all thelinks and details are made by all of us, it was strength in numbers indeed!
After long time intense preparation and coordination work of most of theday, at three o 'clock in the afternoon, contestants from each team of each productionworkshop began to gather at Administrative Building downstairs; aunts ofHaining Dance Club started the activity with "Getting Popular" fullof ebullience, dear Teacher Zhao still made a wonderful opening speech for us withher very high enthusiasm, and the contest started officially in the warmapplause of the scene partners!
First of all, items of team contests were carried out, items with funnynames such as happy hug and explosion, sucking stars and hula hoop rollercoaster were really not so simple to finish quite well relying on all the participants;such as happy hug and explosion was to improve the tacit understanding of eachother between the teammates and let everybody understand teamwork rule of "Pulling inthe same direction" through movements of clamping and passing theball on the back of team members, and the secret key was to grasp how to putforth effort toward one place; in the process of the game, of course,everyone's performance was very funny, making the audiences laugh a lot.
The individual contests in other areas of the field were also wonderful,and new record of passing through 18 needles clamping thread with chopsticks intwo minutes was also created in the old item Go-between this year; we believethat there are many talented people in our general assembly line posts!
There was also a bright spot in this year's contest that we combined clubculture into the activity, and also showed the elegant demeanor of our staffclub in front of more factory partners, to encourage more partners to activelyparticipate in and support our various cultural activities, and stick out exercising,healthy lifestyle!
At 5:30 p.m., the activity which lasted two and a half hours was close toan end, the contest results came out one after another; the fifth productionteam leading by Wang Huijuan continued to win the first prize of team, and theGroup Vice President Zhao Dianmei awarded the silk banner and bonuses for them.At the end of the activity, GM Zeng made summary statement for this contest, andthe fifth Anzheng Fashion Group Labor Skills Contest finally ended. Games weretortuous, and the results were joyous; success would be gained as long as wemade efforts, dear friends, looking forward to see younext year!