一路的飞机、大巴、小汽车、徒步,我突然想起电影《非诚勿扰》里的罗海琼的那个桥段,疲惫却也兴奋。
贫困山区儿童生活艰辛,上学困难这些问题在来之前就预想到了,没想到亲眼目睹了他们的家庭环境和教育条件仍然被深深触动。孩子们大多比较拘束和羞赧,但是在短暂的活动后也还是掩饰不了天性中的热情和活泼,是啊,贫困的生活怎么能轻易打败他们的坚强和微笑呢?在我还没看来得及一一记住他们的名字时,就不得不说着再见,就这样,我们离开了坡儿小学,前往一个小女孩的家。
路越来越烂,石子越来越多,乡村的味道越来越浓了,看着崎岖泥泞的山路、过往的淳朴的农民,和在上海看不到的蔚蓝的天空,很少有机会去感触这么美好的大自然。如果不是心里有着那些让我们牵挂的孩子,这一切该是多么惬意呀,可也正因为心里有了牵挂,我们无意留恋乡间,只想快点到达孩子的家,给予她力所能及的帮助。
女孩的家在半山腰,爬得气喘吁吁的我们在走进孩子家里的那一刻还是被惊呆了。残旧、疾病、贫穷、昏暗如密麻麻的浓雾席卷了她本该五彩缤纷、无忧无虑的童年。无法想象的生存环境就这么出现在眼前,可是孩子依旧很乐观,自始至终都是微笑着在和我们交流,坚强的让人动容。
人生和时光有多蛮横和冷酷,不是上网看看微博和日志就可以体会的。每一步都需要迈出之后才会体验深刻。面对他们的坚强我有点羞愧,生活给予了我太多值得我去珍惜的东西,所以我一直感恩。
其实,无论我们是生活在富裕的城市,还是偏远的乡村,在我们的周围总有一个群体,他们需要我们的关注,更需要我们的帮助。这次的爱心之旅以最直观的、最彻底的贫寒在挑战着我们的底线,让我开始竭尽全力去帮助我生活周围所需要帮助的人。而我更希望通过这次经历去感染身边的更多人,一起去关注、帮扶远方和身边所有需要帮助的人们。从现在,从我们的身边开始做起。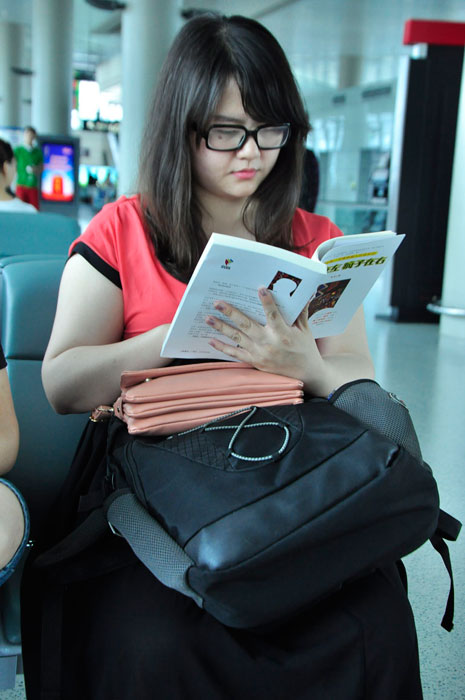 回上海后的第三天,意外的收到了班里一个孩子给我发来的短信,简短的话语着实把我们前去的伙伴都感动了一番。是的,他们记得我们,记得安正的哥哥姐姐。我想我们给他们带去的不仅仅是一些物质上的帮助,更多的是关怀,是爱。
特别感谢公司组织了这么有意义的一次活动,感谢同行的伙伴一路上给予的关怀。感谢坡儿的孩子们给予我的罪珍贵的回忆。不管以后身在何处,最贴心的口袋里一定有你们的名字,谢谢你们……
All the flight, bus tripe, car ride, and walk during journey reminded the episode about Luo Haiqiong in the movie If You Are the One, which made us exhausted and excited at the same time.
We thought that we have well prepared for the hard life and education problems of the children in impoverished areas. However when we saw their homes and educational conditions with our eyes, we couldn't helping being deeply affected. Most of the children here were restrained and shy. However after some activities, they released their inborn passion and liveliness. No wonder, how could impoverished life easily defeat their strong will and smile? Before I had time to remember their names or say good-bye, we had to leave Po'er Primary and head to a small girl's home.
The road became worse and worse, stones became more and more, and the village became more and more remote. Looking at the rugged muddy road, passing by the good-hearted farmers, and enjoying the blue sky that can't be seen in Shanghai, we barely had any chance to enjoy such beautiful nature. If not for the concern for the children living here, it could have been a very relaxed trip. However, because of the concern, we paid no attention to the idyllic scene and just hoped to arrive at her home to help her as we could.
Her home was located in the middle of the mountain. When we arrived at her home out of breath due to all the mountain climbing, we were still shocked. Wrecked home, illness, poverty, darkness, and thick fog have overwhelmed her childhood, which should have been a colorful and carefree one. We couldn't imagine how this child could be so optimistic in face of such adverse living environment. She kept smiling while communicating with us. Her strong will moved everyone.
How rude and cold life could be is beyond what we have seen on MicroBlog or web logs, as you could only realize it after profound experience. I was a bit abashed in front of her toughness. As life has given me so much to cherish, I have always been grateful.
In fact, whether we live in wealthy cities or remote villages, there are always groups of people around us that need our attention and help. When poverty was presented in front of us most straightforwardly and thoroughly, this charity trip challenged our bottom line and called on me to offer more help to those needy people around us. I hope that, through this experience, I can motivate more people around me to pay attention to and help those needy people around us or far away. Let us start from now on and start with the people around us.
On the third day after I returned to Shanghai, quite unexpectedly, I received a text message from a child in the school, whose simple words truly affected me and other companions. Yes, they did remember us, the big brothers and sisters from Anzheng Group. I reckon what we brought to them were not only material help but also care and love.
Many thanks to the Company for organizing such a meaningful trip and many thanks to my companions for the care they gave me during the trip. Thanks to the children in Po'er Primary School for giving us the most precious memories in life. Wherever we are in the future, we will remember your names in our hearts. Thank you……